Emma Sayle has this month chosen Veuve Clicquot award winner, and Mystery Vibe co-founder and CEO Stephanie Alys. Here with this q&a, we find out how she has become such an inspiration.
Hi Stephanie, You are co-founder and CEO of Mystery Vibe, When and why did you start Mystery Vibe?
It is said that to bring lust back into love, we need to introduce mystery in our lives. We created Mystery Vibe to bring that mystery and pleasure back into our bedrooms, which, in today's busy world, is too often consumed by work and stress. Our mission was simple: to bring pleasure to people of all genders, ages, orientations and relationship statuses in an accessible, inclusive way. To change perceptions around pleasure to make it a truly mainstream and beautiful, normal part of our lives.
Looking further back, we came up with the idea for Mystery Vibe around 2008. It started with the idea that pleasure is intimately personal, human and fundamental to our happiness. Yet when it comes to technological innovation and advancement, it has often been overlooked.
In 2014, we got together a group of friends and decided we wanted to take that personalisation and make it a real product — create something that adapted to the person, their moods, desires and sensations.
The sex toy/tech industry is very male-dominated, how have you been received by the industry, what are the greatest challenges you have had to overcome?
Regardless of your industry, there are a number of issues that still come out every now and again — the pay gap for example. Whilst we've all but stamped out overt sexism one major barrier that is still prevalent is unconscious bias. For example, when in a room full of investors, they will tend to focus on the men in the room and not the women.
I'd say I've been well received by the industry. That being said, starting a pleasure tech business is not for the faint-hearted. Sex is still a taboo subject, it has a history of shame and embarrassment attached to it, and has been misrepresented in the past. So, it makes sense that starting a business in the sector inevitably turns a few heads. At the same time, it introduces a bit of camaraderie into the industry!
We're challenging societal constructs, empowering people through intimacy and building a viable business at the same time. Win win win.
Men have designed our sex toys for years, Can you see a change beginning to happen, with more women involved in the sex industry to focus on women's sexual empowerment?
Change is definitely happening. And one very easy way to see that is in product design — while this used to be very genitalia-driven, we're now creating gorgeously sleek products that people are proud to own. And to share with a partner!
In our opinion, it's essential for every company to have a diverse team. We spend a lot of time thinking about user personas and habits, so having a mixed team is really helpful. Crescendo is a gender-neutral product, so we always seek a wide range of reviews from people of all genders and orientations.
It's really important that everyone we work with shares our vision understands the importance of elevating conversations around pleasure — specifically for women's sexual empowerment. That's exactly why our CFO, CPO and Head of Communications are all women!
How important do you think it is that women explore their own bodies and their own turn-ons?
It is essential. Particularly when we look at the orgasm gap. With every 3 orgasms that men enjoy, a woman enjoys 1. Using vibrators can not only add a level of excitement and fun to relationships but educate women about how their bodies work, whereby they can demand pleasure on their own terms.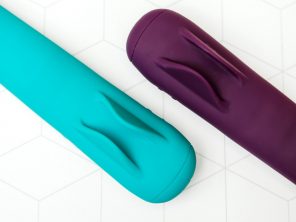 What would you say is your greatest strength? And your biggest weakness?
Everyone has a superpower — I'd say that mine is in helping people to feel at ease talking about things they may not have felt comfortable about.
Opening up conversations around taboo topics is something I think is incredibly important so I weave it into my day-to-day work.
Being the CEO of a worldwide brand and growing continually, how do you manage the juggle of work/life?
It's always about balance! I can actually be quite introverted at times so I always make sure I get a lot of me-time each week.
Although as the old saying goes, do what you love and you'll never work another day in your life 😉
You are only 28, and have achieved so much so quickly, what is next for the force that is Stephanie Alys?
This year we have launched our new product, Tenuto, and so from now, we want to focus on making our brand the go-to product for couples! For the future, I'm keen to do a lot more campaigns that help to promote a specific idea. We want to elevate conversations particularly around pleasure and the benefits of sex tech.
What is your most popular toy, and how do you go about designing them?
Crescendo, our first product of two, is the world's first body-adapting smart 6-motor vibrator, that can be bent to flex and form to the user's body and offer countless vibrations through their app, for a truly personalized pleasure experience.
Our vision is to deeply understand individual arousal and bring curated content to create an immersive sensual experience in the bedroom. Through our research, we also want to support the medical communities to address sexual health issues in a positive informed way. Mystery Vibe believes that an enlightened and liberal society is a safer & happier one.
Our second is called Tenuto, and it's a wearable vibrator for men.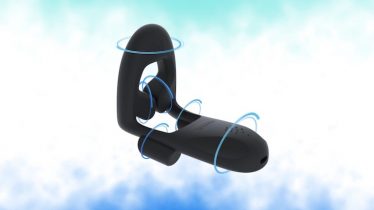 You recently won the Veuve Clicquot Rising star award at their businesswoman of the year awards, what did this mean to you?
I was delighted to receive this award! When we founded Mystery Vibe, my goal was to change the way society thought about women and sexuality. When we talk about pleasure, we also talk about consent and equality. Veuve Clicquot recognised the importance of these conversations and helped to push them forward. This award acknowledges the vast potential of sextech.
What's the future of sex toys for women?
Our vision is to create the complete pleasure experience — something immersive that touches all the senses. That would be so incredibly powerful. But it takes time. Right now, it's all about empowering conversations, individuals and relationships through pleasure. And it feels good.
What advice would you give to other women wanting to start up a business in the sex tech sector?
Accessing finance and getting the right people involved was really challenging for us. It was always our mission to encourage conversations about intimacy and sex, so getting your brand out there and our content noticed can be a challenge.
Getting your message out in a clear authoritative way can be difficult when you work in an industry that has deeply rooted taboos attached to it. That's why we always ensure our content is informative, fun and thought-provoking across all channels.
As for female founders, there is a lack of diversity in the tech scene, which is something women in the space are very much aware of. I love being a founder, and I think we have a responsibility to support each other and encourage other women to follow their passion.
My advice is to be bolder, be braver and don't always try to be likeable. There are times in business when you will have to make difficult decisions which not everybody will like. Have courage in your convictions that the decision you are making is the right one.
What has been your greatest accomplishment thus far?
For me, I always take such pride in the individual responses we get from customers who tell us that Crescendo has saved their marriages, or helped them communicate better with their partners about pleasure, desire and sex. Sexual health is health — it's so vital for our physical and mental wellbeing.
In particular, there was an anonymous person who wrote about her experience with antidepressants, how they stopped her enjoying sex, and how Crescendo helped them rediscover their sexuality — I genuinely cried when I read it.
Stephanie, Thank you so much, a true shero!